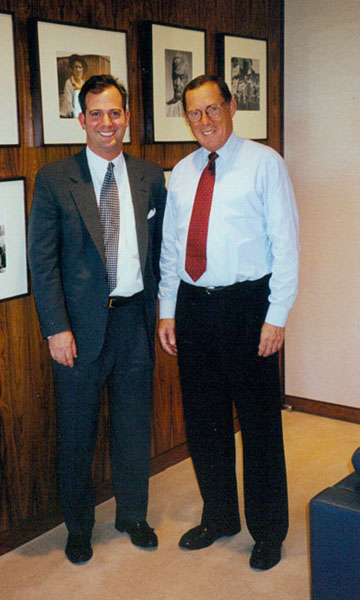 About the DealerSiteBuilder.com
DealerSiteBuilder.com was started in 1998 by David Zandri. David started selling office products right out of college. He quickly rose up through the ranks in the office products industry until eventually owning his own dealership in Massachusetts. In 1998, David spent countless hours with an in-house graphic designer to develop a new website for his established dealership. When it was completed, the new website received rave reviews from other dealers and his manufacturer. Thinking it was crazy for other dealers to have to re-invent the wheel, David then worked with a software company to build an online platform. It was slow at first as the internet was still new to most business people. For the next 2 years, David worked with about 50 dealers to help them create a new web presence for their business. Things took off in January of 2000 when David was invited to showcase the new platform at the Xerox National Conference in New Orleans. It was a big hit but quite honestly some dealers asked him why they needed a website. Imagine that?! Now, almost 23 years later, you'd never have a office products dealer say such a thing. Dealers know that they are selling technology and their clients expect them to be embracing technology too. A full-featured website is a must have for any office products dealer. For example, if your website does not have the full product catalog and you direct your viewers to the manufacturer's website, you are sending them to the dealer locator and to your competition!
David's background brings unique value to your business – experience in the office products industry and the knowledge from assisting dealers with their digital marketing for 25 years.
Since we specialize in your industry, you don't have to tell us what a meter read is – we know! We have assisted hundreds of office product dealers in the US and Canada. From small rural dealers, to new start-ups, to well-established 150+ employee organizations, DealerSiteBuilder.com has a solution to meet your dealership's unique needs!
Chances are, we may have crossed paths before – perhaps when we were a Platinum Sponsor of the Itex Imaging and Technology Show, at the Toshiba Dealer Conference in Las Vegas. at the IBPI Dealer Connect Show in Orlando or at the Xerox National Conference in New Orleans, Texas, Orlando or Las Vegas. Please stop by and say hello when you see us at the next dealer or industry event.